Overview
Five years after the events in sci-fi film Pitch Black, escaped convict Riddick finds himself caught in the middle of a galactic war waged by Lord Marshal, the leader of a sect called the Necromongers. Riddick is charged with stopping the Necromonger army, all while rescuing an old friend from a prison planet and evading capture by bounty hunters.
Tagline
All the power in the universe can't change destiny.
Crew
Show All
Cast
Show All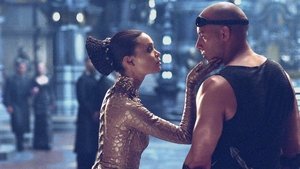 Genres
Production Companies
Universal Pictures, One Race Productions, Primal Foe Productions, Radar Pictures
The movie could be about anything and I would like it. It is Vin Diesel!!
If you enjoyed The Chronicles of Riddick, you might also like...Show All