Overview
Media
Fandom
Share
Obsessive. Compulsive. Detective.
Overview
Adrian Monk was once a rising star with the San Francisco Police Department, legendary for using unconventional means to solve the department's most baffling cases. But after the tragic (and still unsolved) murder of his wife Trudy, he developed an extreme case of obsessive-compulsive disorder. Now working as a private consultant, Monk continues to investigate cases in the most unconventional ways.
Creator
Monk is currently available to stream, watch with ads, and buy in the United States. JustWatch makes it easy to find out where you can legally watch your favorite movies & TV shows online. Visit JustWatch for more information.
Last Season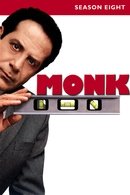 2009 | 16 Episodes
The eighth and final season of Monk originally aired in the United States on USA Network from August 7 to December 4, 2009. It consisted of 16 episodes. Tony Shalhoub, Traylor Howard, Ted Levine, and Jason Gray-Stanford reprised their roles as the main characters. A DVD of the season was released on March 16, 2010.
Content Score
Yes! Looking good!