Overview
Chuck is an American action-comedy/spy-drama television series created by Josh Schwartz and Chris Fedak. The series is about an "average computer-whiz-next-door" named Chuck, played by Zachary Levi, who receives an encoded e-mail from an old college friend now working for the Central Intelligence Agency; the message embeds the only remaining copy of a software program containing the United States' greatest spy secrets into Chuck's brain.
Featured Crew
Creator
Last Season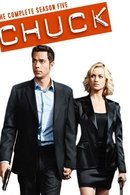 2011 | 13 Episodes
The fifth and final season of the American action-comedy television series Chuck was announced on May 13, 2011. It included 13 episodes. The season premiered on October 28, 2011 and concluded January 27, 2012 with a two-hour finale. Continuing from the eponymous cliffhanger ending of the fourth season finale, "Chuck Versus the Cliffhanger", the fifth season featured the series returning to its roots. With their new-found wealth, Chuck and Sarah Bartowski own the fictional big-box store Buy More, as well as their new freelance spy organization, Carmichael Industries, which includes John Casey and Morgan Grimes. Meanwhile, Morgan acts as the human possessor of the government database known as the Intersect, and Chuck is forced to act as Morgan's protector in the same way that Sarah and Casey were to Chuck in past seasons.
Find out where to watch this on:
Facts
Status Ended
Network
Certification
Meaning

This program contains material that parents may find unsuitable for younger children.
Type Scripted
Original Language English
Runtime 60m, 43m
Homepage http://www.nbc.com/Chuck/
Content Score
Yes! Looking good!