Find out where to watch on
Overview
Breaking Bad is an American crime drama television series created and produced by Vince Gilligan. Set and produced in Albuquerque, New Mexico, Breaking Bad is the story of Walter White, a struggling high school chemistry teacher who is diagnosed with inoperable lung cancer at the beginning of the series. He turns to a life of crime, producing and selling methamphetamine, in order to secure his family's financial future before he dies, teaming with his former student, Jesse Pinkman. Heavily serialized, the series is known for positioning its characters in seemingly inextricable corners and has been labeled a contemporary western by its creator.
Featured Crew
Creator
TV Show Data
Facts
Status Ended
Network AMC
Certification
TV-MA
Original Language English
Runtime 45m, 47m
Community Data
Content Score
Lookin' Good!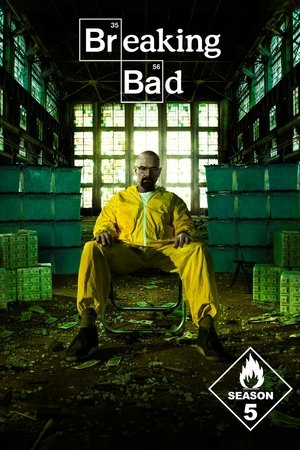 2012 | 16 Episodes
The fifth and final season of the American television drama series Breaking Bad premiered on July 15, 2012. The 16-episode season is split into two parts, each containing eight episodes. AMC broadcast the first part of the fifth season on Sundays at 10:00 pm ET in the United States and Canada, and the second part airs on Sundays at 9:00 pm. The second half debuted August 11, 2013. It debuted in the UK and Ireland on Netflix, showing one day after the episodes aired in the U.S. and Canada.
After receiving three nominations, for seasons two, three, and four, the first half of season 5 won the Primetime Emmy Award for Outstanding Drama Series in 2013.
Reviews
We don't have any reviews for Breaking Bad.