Overview
Jeremy Clarkson, Richard Hammond and James May are back with a show about adventure, excitement and friendship... as long as you accept that the people you call friends are also the ones you find extremely annoying. Sometimes it's even a show about cars. Follow them on their global adventure.
Featured Crew
Last Season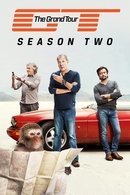 2017 | 11 Episodes
Jeremy Clarkson, Richard Hammond and James May return for a new season of the world's greatest show about three middle-aged men rampaging around the world having unusual adventures, driving amazing cars, and engaging in a constant argument about which of them is the biggest idiot. Although it's also the only show that combines these things so the 'greatest' title is pretty much uncontested.
Facts
Status Returning Series
Network
Certification
Meaning

This program is specifically designed to be viewed by adults and therefore may be unsuitable for children under 17
Type Talk Show
Original Language English
Runtime 60m, 70m
Content Score
Yes! Looking good!