Overview
Media
Fandom
Share
Every decision is life or death.
Overview
What did the world look like as it was transforming into the horrifying apocalypse depicted in "The Walking Dead"? This spin-off set in Los Angeles, following new characters as they face the beginning of the end of the world, will answer that question.
Creator

Creator
Last Season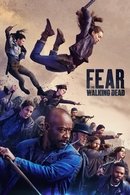 2019 | 16 Episodes
In season 5, the mission to help others will be put to the ultimate test when our group lands in uncharted territory. They will be forced to face not just their pasts but also their fears, leaving them forever changed.
Content Score
Yes! Looking good!