Overview
Media
Fandom
Share
Overview
Sekai-Ichi Hatsukoi: Onodera Ritsu no Baai is a Japanese boys-love manga series written and illustrated by Shungiku Nakamura. In 2011, the manga was adapted into an anime television series under the title Sekai-ichi Hatsukoi. Produced by Studio DEEN under the direction of Chiaki Kon, the anime series began its broadcast run on April 9, 2011. An original animation DVD was bundled with the fifth and sixth volumes of the manga series, released in March and September 2011.
Sekaiichi Hatsukoi follows three couples that are interconnected within the manga industry, with each being subject to the budding of first love.
Creator
Last Season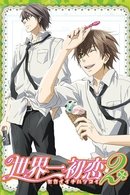 2011 | 12 Episodes
Season 2 of Sekai Ichi Hatsukoi: The World's Greatest First Love premiered on October 8, 2011.
Content Score
Pump it up! We're close now.