Overview
We don't have an overview translated in English. Help us expand our database by adding one.
Featured Crew
Creator
Series Cast
We don't have any cast added to this TV Show. You can help by adding some!
Last Season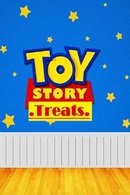 1996 | 37 Episodes
A series of short vignettes featuring the characters from the first "Toy Story" film.
Recommendations
We don't have enough data to suggest any TV shows based on Toy Story Treats. You can help by rating TV shows you've seen.
Content Score
There's no 'I' in team...