Overview
Angel is an American television series, a spin-off from the television series Buffy the Vampire Slayer. Angel, a 240-year old vampire cursed with a conscience, haunts the dark streets of Los Angeles alone. But after he meets a half-demon with mysterious visions, Angel realizes his true purpose: to help those in danger with the hope that he may have a chance to redeem himself and save his own soul. With Cordelia and Doyle at his side, he forms Angel Investigations. He is soon joined by Wesley, Gunn, Lorne and Fred, and he will need all their expertise to fight the growing forces of evil, and the supernatural law firm of Wolfram and Hart.
Featured Crew
Creator

Creator
Last Season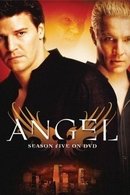 2003 | 22 Episodes
The fifth and final season of the television series Angel, the spin-off of Buffy the Vampire Slayer, premiered on October 1, 2003 on The WB and concluded its 22-episode season and its television run on May 19, 2004. The season aired on Wednesdays at 9:00 pm ET. This was the first and only season of Angel to air following the finale of Buffy the Vampire Slayer.
Find out where to watch this on:
Facts
Status Ended
Network
Certification
Meaning

This program contains material that parents may find unsuitable for younger children.
Type Scripted
Original Language English
Runtime 41m
Content Score
Yes! Looking good!