Overview
Beverly Hills, 90210 is an American drama series that originally aired from October 4, 1990 to May 17, 2000 on Fox and was produced by Spelling Television in the United States, and subsequently on numerous networks around the world. It is the first series in the Beverly Hills, 90210 franchise. The show followed the lives of a group of teenagers living in the upscale, star-studded community of Beverly Hills, California and attending the fictitious West Beverly Hills High School and, subsequently, the fictitious California University after graduation. The show was created by Darren Star and executive producers Charles Rosin followed in later seasons by Aaron Spelling, E. Duke Vincent, Steve Wasserman, and Jessica Klein. The "90210" in the title refers to one of the city's five ZIP codes.
The original premise of the show was based on the adjustment and culture shock that twins Brandon and Brenda Walsh experienced when they and their parents, Jim and Cindy moved from Minneapolis, Minnesota to Beverly Hills. In addition to chronicling the friendships and romantic relationships of the characters, the show also addressed numerous topical issues such as date rape, gay rights, alcoholism, domestic violence, anti-Semitism, drug abuse, teenage suicide, teenage pregnancy, AIDS, bulimia and abortion. Beverly Hills, 90210 was named one of the Best School Shows of All Time by AOL TV.
Featured Crew
Creator

Creator
Last Season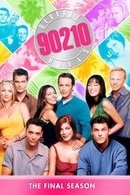 1999 | 27 Episodes
Season ten of Beverly Hills, 90210, is an American teen drama television series began airing on September 8, 1999, on Fox television network. It was the final season of the series and concluded on May 17, 2000, after 27 episodes. This season follows the gang into adulthood as they deal with numerous issues that adults face in their personnel and professional lives such as relationships, murder, pregnancy, infidelity, parenthood, kidnappings, death, alcoholism and marriage. The final season was aired on Wednesday nights at 9/8c in the United States averaging 8.33 million viewers a week. The season was released to DVD under the title of Beverly Hills, 90210: The Final Season by Paramount. Initial plans of an 11th Season were to be developed but due to low ratings and high associated costs with production the show ended at its tenth season.
Find out where to watch this on:
Facts
Status Ended
Network
Certification
Meaning

Not recommended for minors under fourteen. More violent material, stronger sex references and/or nudity.
Type Scripted
Original Language English
Runtime 45m, 60m
Homepage -
Content Score
Almost there...