Overview
Blackadder is the name that encompassed four series of a BBC 1 period British sitcom, along with several one-off instalments. All television episodes starred Rowan Atkinson as anti-hero Edmund Blackadder and Tony Robinson as Blackadder's dogsbody, Baldrick. Each series was set in a different historical period with the two protagonists accompanied by different characters, though several reappear in one series or another, for example Melchett and Lord Flashheart.
The first series titled The Black Adder was written by Richard Curtis and Rowan Atkinson, while subsequent episodes were written by Curtis and Ben Elton. The shows were produced by John Lloyd. In 2000 the fourth series, Blackadder Goes Forth, ranked at 16 in the "100 Greatest British Television Programmes", a list created by the British Film Institute. Also in the 2004 TV poll to find "Britain's Best Sitcom", Blackadder was voted the second-best British sitcom of all time, topped by Only Fools and Horses. It was also ranked as the 20th-best TV show of all time by Empire magazine.
Featured Crew
Creator

Creator

Creator
Last Season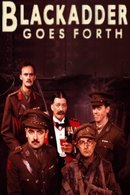 1983 | 6 Episodes
The Black Adder is the first series of the BBC sitcom Blackadder, written by Richard Curtis and Rowan Atkinson, directed by Martin Shardlow and produced by John Lloyd. The series was originally aired on BBC One from 15 June 1983 to 20 July 1983, and was a joint production with the Australian Seven Network. Set in 1485 at the end of the British Middle Ages, the series is written as a secret history which contends that King Richard III won the Battle of Bosworth Field, only to be unintentionally assassinated, and is succeeded by Richard IV, one of the Princes in the Tower. The series follows the exploits of Richard IV's unfavoured second son Edmund in his various attempts to increase his standing with his father and in the final episode his quest to overthrow him. Conceived while Atkinson and Curtis were working on Not the Nine O'Clock News, the series covers a number of medieval issues in Britain in a humorous and often anachronistic manner - witchcraft, Royal succession, European relations, the Crusades and the conflict between the Crown and the Church. The filming of the series was highly ambitious, with a large cast and much location shooting. The series also features Shakespearean dialogue, often adapted for comic effect.
Facts
Status Ended
Network
Certification
Meaning

PG stands for Parental Guidance. This means a film is suitable for general viewing, but some scenes may be unsuitable for young children. A PG film should not unsettle a child aged around eight or older.
Type Scripted
Original Language English
Runtime 32m
Content Score
Yes! Looking good!