Overview
When Clary Fray's mother has disappeared, Clary joins a band of Shadowhunters; demon killing hunters, and gets caught up in a plan to save the world.
Featured Crew
Creator
Top Billed Cast
Clarissa "Clary" Fray

Jace Wayland

Simon Lewis

Alexander "Alec" Lightwood

Isabelle "Izzy" Lightwood
Current Season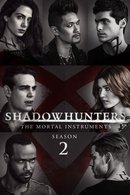 2017 | 11 Episodes
The Shadow World is in upheaval as Valentine and The Circle continue to grow stronger by the minute, while the Shadowhunter team quickly becomes disillusioned with The Clave and their reaction to the recent events. Loyalties will be tested, unlikely bonds will be made and relationships will be pushed to the limit as the Shadowhunters and their Downworlder friends make their way in a new world.
Content Score
Lookin' Good!