Overview
This story is about the flow of fate and the battle to keep the world on the right path. Aladdin is a boy who has set out to explore the world after being trapped in a room for most of his life. His best friend is a flute with a djinn in it named Ugo. Soon enough, Aladdin discovers he is a Magi, a magician who chooses kings, and he was born to choose kings who will follow the righteous path, battling against those who want to destroy fate. Follow his adventures as he meets others from 1001 Arabian Nights, like Ali Baba and Sinbad, and fights to keep the balance of world in check!
Last Season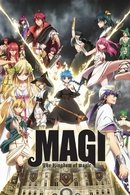 2013 | 25 Episodes
After celebrating their victory against Al-Thamen, Aladdin and his friends depart the land of Sindria. With the end of the battle, however, comes the time for each of them to go their separate ways. Hakuryuu and Kougyoku are ordered to go back to their home country, the Kou Empire. Meanwhile Aladdin announces he needs to head for Magnostadt—a mysterious country ruled by magicians—to investigate the mysterious events occurring in this new kingdom and become more proficient in magic. For their part, encouraged by Aladdin's words, Alibaba and Morgiana also set off in pursuit of their own goals: training and going to her homeland, respectively.
Facts
Original Name マギ
Status Ended
Networks
Certification
Meaning

The broadcaster must take the decision about the air time by taking in consideration the impact on young children in the timeframe from 6:00am to 8:00pm.
Type Scripted
Original Language Japanese
Runtime 24m
Content Score
Almost there...