Overview
Plebs follows three desperate young men from the suburbs as they try to get laid, hold down jobs and climb the social ladder in the big city – a city that happens to be Ancient Rome.
Featured Crew
We don't have any crew added to this TV Show. You can help by adding some!
Last Season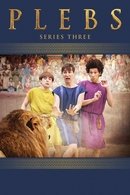 2016 | 8 Episodes
Alongside their regular nemeses, this year our Plebs will encounter a legion of new Roman recruits: visiting parents, a brazen Vestal Virgin, a doping discus thrower, a theatrical grande dame and an ancient weatherman.
Find out where to watch this on:
Facts
Status In Production
Network ITV2
Certification
Meaning

No rating information.
Type Scripted
Original Language English
Runtime 30m
Homepage https://www.itv.com/itvplayer/plebs
Content Score
Almost there...