Episodes
4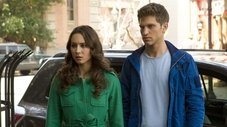 Hanna has some explaining to do to her parents and the police after she's found with something she shouldn't have. Mona spills a secret of Spencer's to the other Liars – leading to hurt feelings amongst the group. Emily tries to help Hanna, only to have "A" turn the tables. And Aria helps out a friend of Mike's, who gets the wrong impression of her. Meanwhile, Shana keeps popping up in the most unusual places. And Spencer's investigation into who was on the other end of Ali's mysterious phone number leads her and Toby to Ravenswood – which is unlike any place they've ever seen.
Read More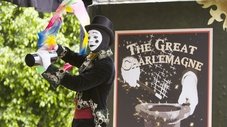 An intriguing riddle from "A" has the Liars hitting the road and heading to Ravenswood, where they are surrounded by some familiar faces. During a very special magic show, one Liar pulls a disappearing act, leaving the other three scrambling to make sure she hasn't succumbed to "A's" tricks. But before they can hightail it out of Ravenswood, they make a shocking discovery that proves that everything they thought they knew about "A" and the "A" team might be wrong. With this discovery, the Liars may just have started "World War A"-- #WorldWarA. Meanwhile, Hanna and her mother's joyous reunion is cut short when "A's" sights are set on a new target. And Toby uncovers some surprising information about Wren.
Read More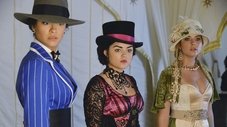 Aria, Emily, Hanna and Spencer crash the Ravenswood Founders Day Celebration after finding a clue in "A's" new lair that Ali may indeed be alive. Dressed in their finest Edwardian wear, the ladies hit the creepy cemetery party to find Ali before "A" can. But if Ali is truly alive, could the PLLs be leading "A" straight to their friend without knowing it? With Ezra lurking in the shadows, "A" may be closer than the girls realize. Meanwhile, Caleb heads to Ravenswood to help the girls and meets kindred soul Miranda along the way.
Read More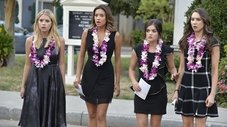 The Liars try to prove that Alison was involved in Mona's death; Aria worries about her future.
Read More