Overview
The series centers on Ryan Atwood, a troubled youth from a broken home who is adopted by the wealthy and philanthropic Sandy and Kirsten Cohen. Ryan and his surrogate brother Seth, a socially awkward yet quick-witted teenager, deal with life as outsiders in the high-class world of Newport Beach. Ryan and Seth spend much time navigating their relationships with girl-next-door Marissa Cooper, Seth's childhood crush Summer Roberts, and the fast-talking loner Taylor Townsend. Story lines deal with the culture clash between the idealistic Cohen family and the shallow, materialistic, and closed-minded community in which they reside. The series includes elements of postmodernism, and functions as a mixture of melodrama and comedy.
Featured Crew
Creator
Last Season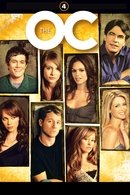 2006 | 16 Episodes
High school seems like a distant memory to the young graduates, who have been thrust into adulthood after the death of their beloved friend. The Cohens struggle to keep Ryan focused on the future, fighting the forces that threaten to pull him back into his old life. Summer has left Orange County and is attending Brown University in Rhode Island, where she has reinvented herself as a left-leaning, tree-hugging activist. Meanwhile, Seth is lonely in the O.C. and working at a local comic book store. Kaitlin Cooper returns to the O.C. as the No. 1 troublemaker at The Harbor School. And Taylor Townsend is hiding out and speaking French in the O.C. after her mysterious romance in Paris.
Facts
Status Ended
Network
Certification
Meaning

This program contains some material that many parents would find unsuitable for children under 14 years of age.
Type Scripted
Original Language English
Runtime 42m, 60m
Content Score
Yes! Looking good!