Overview
The Six Million Dollar Man is an American television series about a former astronaut with bionic implants working for a fictional government office known as OSI. The series is based on the Martin Caidin novel Cyborg, which was the series's proposed title during pre-production. Following three television movies aired in 1973, The Six Million Dollar Man aired on the ABC network as a regular series for five seasons from 1974 to 1978. The title role of Steve Austin was played by Lee Majors, who subsequently became a pop culture icon of the 1970s. A spin-off series, The Bionic Woman, ran from 1976-78. Several television movies featuring both eponymous characters were also produced between 1987 and 1994.
Featured Crew
Creator

Creator
Last Season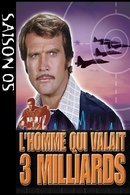 1977 | 21 Episodes
The show's final season would run for 21 episodes from Fall 1977 to Spring 1978. With its sister show, The Bionic Woman moved to NBC, there would be no further joint appearances between the two lead characters (though at least one NBC Bionic Woman episode, "The Bionic Dog", references Steve in dialogue). However, in a situation that as of 2014 remains unique in American television, Richard Anderson and Martin E. Brooks continued to appear as Oscar Goldman and Rudy Wells in both series, despite the shows airing on competing networks. The final season would visit the moon and bring back Bigfoot, Death Probe and sport a cameo by Steve Austin creator Martin Caidin. After losing the mustache late in Season Four, Steve loses the parted hair in Season Five in favor of a mod-for-the-time perm. Nonetheless, the opening credits remained unchanged from Season 4 - the only time the opening stayed consistent for more than one season - retaining the 1973-era images of Majors. With a total of five two-parters (six in syndication when a two-hour episode was reedited), the final season sets a record for over half its episodes being extended narratives- not to mention the legacy behind "Bigfoot V" and "Return of Death Probe". Replacing Lionel E. Siegel and Alan Balter as producer would be Fred Freiberger (of Star Trek's and Space: 1999's final seasons) alternating with Richard H. Landau.
Facts
Status Ended
Network
Certification
Meaning

The broadcaster must take the decision about the air time by taking in consideration the impact on young children in the timeframe from 6:00am to 8:00pm.
Type Scripted
Original Language English
Runtime 43m, 60m
Keywords
No keywords have been added.
Content Score
Just a little bit more...