Overview
The Wire is an American television crime drama series set and produced in and around Baltimore, Maryland. Each season of The Wire introduces a different facet of the city of Baltimore. In chronological order they are: the illegal drug trade, the seaport system, the city government and bureaucracy, the school system, and the print news media.
Despite only receiving average ratings and never winning major television awards, The Wire has been described by many critics and fans as one of the greatest TV dramas of all time. The show is recognized for its realistic portrayal of urban life, its literary ambitions, and its uncommonly deep exploration of sociopolitical themes.
Featured Crew
Creator
Top Billed Cast
Jimmy McNulty

Cedric Daniels

Kima Greggs

Bunk Moreland

Lester Freamon
Last Season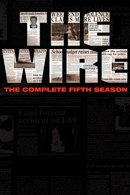 2008 | 10 Episodes
In the projects. On the docks. In City Hall. In the schools. And now, in the media. The places and faces change, but the game remains the same. In the fifth — and final — season, the series expands its focus into the media — specifically the role of newspapers in big-city bureaucracy — as it follows a newspaper staff as they struggle to maintain integrity and meet deadlines in the face of budget cuts and staff reductions.
Find out where to watch this on:
Facts
Status Ended
Network HBO
Certification
TV-MA
Original Language English
Runtime 60m
Homepage http://www.hbo.com/the-wire
Content Score
Lookin' Good!