Overview
Media
Fandom
Share
Overview
Tin Man is a 2007 four and a half hour miniseries co-produced by RHI Entertainment and Sci Fi Channel original pictures that was broadcast in the United States on the Sci Fi Channel in three parts. The first part aired on December 2, and the remaining two parts airing on the following nights. It was released to DVD on March 11, 2008; the same year it was rebroadcast in the United Kingdom, Australia, and New Zealand. Starring Zooey Deschanel, Neal McDonough, Alan Cumming, Raoul Trujillo, Kathleen Robertson, and Richard Dreyfuss, the miniseries is a continuation of the classic story The Wonderful Wizard of Oz, with science fiction and additional fantasy elements added. It focuses on the adventures of a small-town waitress named DG who is pulled into a magical realm called the O.Z., ruled by the tyrannical sorceress Azkadellia. Together with her companions Glitch, Raw, and Cain, DG journeys to uncover her lost memories, find her true parents, and foil Azkadellia's plot to trap the O.Z. in eternal darkness.
Costing $20 million to produce, the first part of miniseries was the highest-rated program in its timeslot, with 6.4 million viewers; the miniseries itself would be the highest-rated miniseries of 2007. It was nominated for nine Emmy awards, winning one, and was also nominated for a Critics' Choice Award. Critics gave it mixed reviews, with some praising the acting, soundtrack, and visual effects, while others found it overly grim and bleak.
Creator
Last Season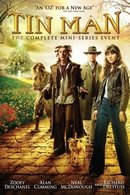 2007 | 3 Episodes
A tent-pole miniseries release from RHI Entertainment and SCI FI Channel Tin Man is a modern science fiction update of L. Frank Baum s timeless "The Wonderful Wizard of Oz." When a sorceress named Azkadellia scorches the once-beautiful land of OZ into a desolate wasteland the only hope lies in an "outsider" named DG a young Midwestern woman whose troubling dreams have summoned her to the doomed paradise. D.G. embarks on a journey to find the great mystic man to save the O.Z. and on her way she befriends a scarecrow named Glitch a tin cop named Cain and gentle manimal named Raw.
Content Score
Almost there...