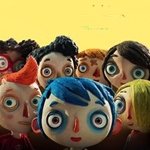 And he wrote: Everything will be OK
'But OK is not enough.'
Everything will be perfect
'But how can it be perfect?'
Everything will be
How do you live if you're ruled by your past? But, how do you let go of a past that made you?
There's nothing wrong with a little electricity. Just as long as you don't get shocked.
Follow my Tumblr for more quotes, and check out my Trakt or mooviestats profile to see how much I don't have a life.
Ratings By Year
Marr 🇳🇱's Ratings
Filter by:
My Rating
Date Rated
Popularity
Release Date