Overview
Told by his mother to go live at his childhood friend Asuka's place, Eita isn't sure how he feels about her. So she asks him to try out being lovers. Are they just childhood friends, or more?…
Featured Crew
Creator
Series Cast
We don't have any cast added to this TV Show. You can help by adding some!
Current Season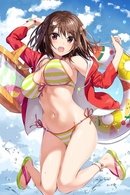 2019 | 1 Episode
Told by his mother to go live at his childhood friend Asuka's place, Eita isn't sure how he feels about her. So she asks him to try out being lovers. Are they just childhood friends, or more?…
Content Score
We're so close, yet so far.