Overview
Peep Show is an award-winning British sitcom starring David Mitchell and Robert Webb. The television programme is written by Jesse Armstrong and Sam Bain, with additional material by Mitchell and Webb amongst others. It has been broadcast on Channel 4 since 2003. The show's eighth series makes it the longest-returning comedy in Channel 4 history. Stylistically, the show uses point of view shots with the thoughts of main characters Mark and Jeremy audible as voiceovers.
Peep Show follows the lives of two men from their twenties to thirties, Mark Corrigan, who has steady employment for most of the series, and Jeremy "Jez" Usbourne, an unemployed would-be musician. The pair met at the fictional Dartmouth University, and now share a flat in Croydon, South London. Mark is initially a loan manager at the fictional JLB Credit, later becoming a waiter, and then a bathroom supplies salesman. He is financially secure, but awkward and socially inept, with a pessimistic and cynical attitude. Jeremy, having split up with his girlfriend Big Suze prior to the first episode, now lives in Mark's spare room. He usually has a much more optimistic and energetic outlook on the world than Mark, yet his self-proclaimed talent as a musician has yet to be recognised, and he is not as popular or attractive as he would like to think himself, although he is more successful with the opposite sex than Mark.
Featured Crew
Creator

Creator

Creator
Last Season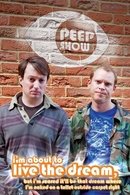 2015 | 6 Episodes
The final series of Peep Show is almost upon us, with the final miserable misadventures of the El Dude Brothers' set to begin on 11 November.
Find out where to watch this on:
Facts
Status Ended
Network
Certification
Meaning

Only adults are admitted. Nobody younger than 18 can rent or buy an 18-rated VHS, DVD, Blu-ray Disc, UMD or game, or watch a film in the cinema with this rating. Films under this category do not have limitation on the bad language that is used. Hard drugs are generally allowed, and explicit sex references along with detailed sexual activity are also allowed. Scenes of strong real sex may be permitted if justified by the context. Very strong, gory, and/or sadistic violence is usually permitted. Strong sexual violence is permitted unless it is eroticised or excessively graphic.
Type Scripted
Original Language English
Runtime 25m, 30m, 24m
Homepage http://www.channel4.com/entertainment/tv/microsites/P/peep_show/index.html
Content Score
Almost there...