Overview
Media
Fandom
Share
Overview
Struggling actors Justin and Alden road trip across L.A. and time itself to convince Felicia Day to star in their web series.
Creator

Creator

Creator
Last Season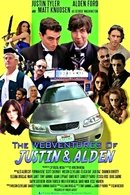 2010 | 5 Episodes
What is the quickest way to fame and riches? Simple, make a web series. Come along as Justin and Alden, web series script in hand, begin their epic, 4 mile road trip across Los Angeles in search of fame, glory and Felicia Day.
Content Score
Just a little bit more...