Overview
Media
Fandom
Share
At the edge of the universe, discovery begins.
Overview
Follow the voyages of Starfleet on their missions to discover new worlds and new life forms, and one Starfleet officer who must learn that to truly understand all things alien, you must first understand yourself.
Creator

Creator
Last Season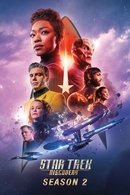 2019 | 14 Episodes
After answering a distress signal from the U.S.S. Enterprise, season two finds the crew of the U.S.S. Discovery joining forces with Captain Christopher Pike on a new mission to investigate seven mysterious red signals and the appearance of an unknown being called the Red Angel. While the crew must work together to unravel their meaning and origin, Michael Burnham is forced to face her past with the return of her estranged brother, Spock.
Content Score
Yes! Looking good!