2016 | 8 Episodes
Season 1 of Stranger Things premiered on July 15, 2016.
Strange things are afoot in Hawkins, Indiana, where a young boy's sudden disappearance unearths a young girl with otherworldly powers.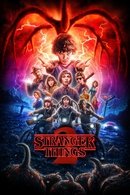 2017 | 9 Episodes
Season 2 of Stranger Things premiered on October 27, 2017.
It's been nearly a year since Will's strange disappearance. But life's hardly back to normal in Hawkins. Not even close.
— | 0 Episodes
Netflix has renewed Stranger Things for a 3rd season. According to David Harbour (actor for Jim Hopper), season 3 may not be released until 2019. Nothing about the plot, new casting, or any other details about the 3rd season has been released to the public. It has been confirmed that there will be 8 episodes in this upcoming season.