Overview
Natsuki Subaru, an ordinary high school student, is on his way home from the convenience store when he finds himself transported to another world. As he's lost and confused in a new world where he doesn't even know left from right, the only person to reach out to him was a beautiful girl with silver hair. Determined to repay her somehow for saving him from his own despair, Subaru agrees to help the girl find something she's looking for.
Last Season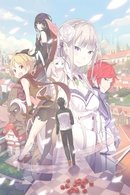 2016 | 25 Episodes
When Subaru Natsuki leaves the convenience store, the last thing he expects is to be wrenched from his everyday life and dropped into a fantasy world. Things aren't looking good for the bewildered teenager; however, not long after his arrival, he is attacked by some thugs. Armed with only a bag of groceries and a now useless cell phone, he is quickly beaten to a pulp. Fortunately, a mysterious beauty named Satella, in hot pursuit after the one who stole her insignia, happens upon Subaru and saves him. In order to thank the honest and kindhearted girl, Subaru offers to help in her search, and later that night, he even finds the whereabouts of that which she seeks. But unbeknownst to them, a much darker force stalks the pair from the shadows, and just minutes after locating the insignia, Subaru and Satella are brutally murdered. However, Subaru immediately reawakens to a familiar scene—confronted by the same group of thugs, meeting Satella all over again—the enigma deepens as history inexplicably repeats itself.
Facts
Original Name Re:ゼロから始める異世界生活
Status Returning Series
Network
Certification
Meaning

Content suitable for viewers over the age of 18.
Type Scripted
Original Language Japanese
Runtime 25m
Content Score
Almost there...