Overview
Star Trek: The Next Generation is an American science fiction television series created by Gene Roddenberry as part of the Star Trek franchise. The show is set in the nearby regions of the Milky Way galaxy, approximately during the 2360s and features a new crew and a new starship Enterprise.
Featured Crew
Creator
Last Season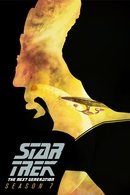 1993 | 26 Episodes
In the seventh and final season, Riker goes undercover and rediscovers Picard posing as a mercenary on an alien ship. Together they initiate a plan to find a lethal artifact. The crew struggles to deal with Data's new found human elements which cause several traumatic episodes for the crew. As Picard is imprisoned by an alien race, he comes to terms with past emotions. Riker is once again conflicted between his loyalty to Picard and his obligation to Starfleet and the Federation. As the lives of the crew members are endangered, Picard is taken on a journey to the past, present, and future to see the results of his actions.
Find out where to watch this on:
Facts
Status Ended
Network
Certification
Meaning

This program contains material that parents may find unsuitable for younger children.
Type Scripted
Original Language English
Runtime 45m, 60m
Homepage http://www.startrek.com/page/star-trek-the-next-generation
Content Score
Yes! Looking good!