Overview
Ken Kaneki is a bookworm college student who meets a girl names Rize at a cafe he frequents. They're the same age and have the same interests, so they quickly become close. Little does Kaneki know that Rize is a ghoul - a kind of monster that lives by hunting and devouring human flesh. When part of her special organ - "the red child" - is transplanted into Kaneki, he becomes a ghoul himself, trapped in a warped world where humans are not the top of the food chain.
Current Season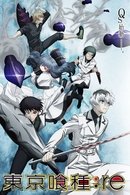 2018 | 10 Episodes
Two years have passed since the CCG's raid on Anteiku. Although the atmosphere in Tokyo has changed drastically due to the increased influence of the CCG, ghouls continue to pose a problem as they have begun taking caution, especially the terrorist organization Aogiri Tree, who acknowledge the CCG's growing threat to their existence. The creation of a special team, known as the Quinx Squad, may provide the CCG with the push they need to exterminate Tokyo's unwanted residents. As humans who have undergone surgery in order to make use of the special abilities of ghouls, they participate in operations to eradicate the dangerous creatures. The leader of this group, Haise Sasaki, is a half-ghoul, half-human who has been trained by famed special class investigator, Kishou Arima. However, there's more to this young man than meets the eye, as unknown memories claw at his mind, slowly reminding him of the person he used to be.
Facts
Original Name 東京喰種トーキョーグール
Status Returning Series
Network
Certification
Meaning

This program is specifically designed to be viewed by adults and therefore may be unsuitable for children under 17
Type Scripted
Original Language Japanese
Runtime 24m
Content Score
Almost there...