Overview
The Doctor looks and seems human. He's handsome, witty, and could be mistaken for just another man in the street. But he is a Time Lord: a 900 year old alien with 2 hearts, part of a gifted civilization who mastered time travel. The Doctor saves planets for a living – more of a hobby actually, and he's very, very good at it. He's saved us from alien menaces and evil from before time began – but just who is he?
Featured Crew
Creator

Creator

Creator
Top Billed Cast
The Doctor

Bill

Nardole
Last Season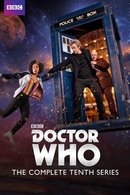 2017 | 12 Episodes
Doctor Who, Season 10 sees Peter Capaldi embark on his thrilling final chapter as the Twelfth Doctor as well as the introduction of brand new companion Pearl Mackie as Bill Potts and the return of Matt Lucas as Nardole. Fantastic adventures and terrifying monsters await the team of heroes as they journey through space and time. Expect laughter, danger and exhilarating escapades in this final season under the helm of lead writer and executive producer Steven Moffat.
Facts
Status Returning Series
Network
Certification
Meaning

This program contains material that parents may find unsuitable for younger children.
Type Scripted
Original Language English
Runtime 80m, 70m, 50m, 60m, 45m
Content Score
Just a little bit more...