Overview
The Utopia Experiments is a legendary graphic novel shrouded in mystery. When a group of strangers find themselves in possession of an original manuscript, their lives suddenly and brutally implode.
Featured Crew
Creator
Last Season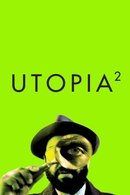 2014 | 6 Episodes
It has been three months since the destruction of the Utopia manuscript, and things have been quiet for Ian, Becky and co. Believing the Network to be finished, they each try to get back to some semblance of normality. But far from being over, the Network are only just beginning...
Find out where to watch this on:
Facts
Status Ended
Network Channel 4
Certification
Meaning

Only adults are admitted. Nobody younger than 18 can rent or buy an 18-rated VHS, DVD, Blu-ray Disc, UMD or game, or watch a film in the cinema with this rating. Films under this category do not have limitation on the bad language that is used. Hard drugs are generally allowed, and explicit sex references along with detailed sexual activity are also allowed. Scenes of strong real sex may be permitted if justified by the context. Very strong, gory, and/or sadistic violence is usually permitted. Strong sexual violence is permitted unless it is eroticised or excessively graphic.
Type Scripted
Original Language English
Runtime 50m
Content Score
Yes! Looking good!