Overview
The Monogatari Series revolves around on Koyomi Araragi, a third-year high school student who survived a vampire attack, and finds himself helping some girls involved with all kinds of apparitions, deities, ghosts, mythological beasts, and spirits.
Featured Crew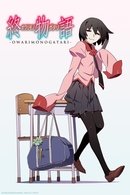 2015 | 12 Episodes
Background: 3rd Season and also Final Season. Consist of 5 Arc + include 3 movie. 1. Tsukimonogatari (Broadcast in TV Special in 1 day with 4 episode) 1 [60] - 4 [63]. 2. Owarimonogatari (Braodcast Normal TV only Ep 1 & 2 are combine in 1 day) 1 [64] - 13 [76] 3. Koyominogatari (Operate on IOS and Android) and name translate as "narrator", so series is not continue series, also call spin-off. 1 [77] - 12 [88]. 4 Kizumonogatari Movie 1 [89] - 3 [91] (Set timeline prequel to Bakemonogatari and Nekomonogatari (Black). 5. Owarimonogatari II (Broadcast in TV Specail in 2 day with 7 episode) 1 [92] - 7 [98]. 6. Zokumonogatari (consist 2 version, Movie and TV Broadcast 1 - 6) 1 [99] - 6 [104]. Summary: During the month of October of his third year in high school, Koyomi Araragi is introduced to a transfer student named Ougi Oshino by his underclassman Kanbaru Suruga. Ougi tells Koyomi that she has something she wishes to consult with him. When she draws the map of Naoestu High School, she finds something peculiar on there. This discovery reveals a tale that wasn't meant to be told, and this makes Koyomi's high school life totally different. This is the story that brings to light "what" makes Koyomi Araragi. This is the story that reveals the "beginning" of everything.
Facts
Original Name 化物語
Status Ended
Networks
Certification
Meaning

This program contains material that parents may find unsuitable for younger children.
Type Scripted
Original Language Japanese
Runtime 25m
Content Score
Yes! Looking good!