Overview
A much more lavish version of the popular Superman television series which had first aired forty years earlier, Lois & Clark focused more on the Man of Steel's early adult years in Metropolis. With the unknowing help of Lois Lane, Clark Kent created Superman there in Metropolis after finding work at the world-famous Daily Planet newspaper, where he meets fellow reporter Lois Lane.
Featured Crew
Creator
Last Season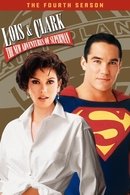 1996 | 22 Episodes
Lois & Clark: The New Adventures of Superman's fourth season originally aired between September 22, 1996 and June 14, 1997, beginning with "Lord of the Flys". The series loosely follows the comic philosophy of writer John Byrne, with Clark Kent as the true personality, and Superman as a secondary disguise. As the show's title suggests, it focuses as much on the relationship between Clark Kent and Lois Lane as on the adventures of Clark's alter-ego. The central characters in season 4 are Dean Cain as Clark Kent/Superman, Teri Hatcher as Lois Lane, Lane Smith as Perry White, Eddie Jones as Jonathan Kent, K Callan as Martha Kent, Justin Whalin as Jimmy Olsen. The fourth and final season had several two-part episodes. It began with the resolution of a cliffhanger involving a previously unknown colony of Kryptonians. A villainous conqueror from New Krypton, Lord Nor, takes over Clark's hometown of Smallville. After the conclusion of this story, Lois and Clark finally wed in the third episode of the season entitled "Swear To God, This Time We're Not Kidding". The same week of the airing of this episode, DC Comics released Superman: The Wedding Album, featuring the long-awaited marriage of Lois and Clark/Superman, written and penciled by many of the writers and artists involved with Superman since the 1986 revamp, including some legends from the Silver Age, and an unpublished work of the late Curt Swan.
Facts
Status Ended
Network
Certification
Meaning

Content is suitable for all audiences.
Type Scripted
Original Language English
Runtime 46m
Content Score
Yes! Looking good!