Overview
Psycho-Pass is a Japanese anime television series that takes place in the future where it is possible to instantaneously measure a person's mental state, personality, and the probability that a person will commit crimes with a device installed on each citizen's body called the Psycho-Pass. It follows members of Unit One of the Public Safety Bureau's Criminal Investigation Division and the crimes they investigate.
Featured Crew
Creator
Last Season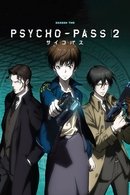 2014 | 11 Episodes
The second season takes place one-and-a-half years after the first season. Having learned the true nature of the Sibyl System, Akane Tsunemori chose to obey the system, believing in both humanity and the legal order. She's part of a new police section and spends her everyday life facing down criminals. Unbeknownst to Akane, however, a monster who will shake the system to its core is about to appear before her.
Facts
Original Name サイコパス
Status Returning Series
Network
Certification
Meaning

Can be aired only from 10:00pm Uhr to 6:00am.
Type Scripted
Original Language Japanese
Runtime 23m
Content Score
Almost there...