Overview
A contemporary British re-working of The Twilight Zone with stories that tap into the collective unease about our modern world. 
Over the last ten years, technology has transformed almost every aspect of our lives before we've had time to stop and question it. In every home; on every desk; in every palm - a plasma screen; a monitor; a smartphone - a black mirror of our 21st Century existence.
Featured Crew
Creator
Top Billed Cast
We don't have any cast added to this TV Show. You can help by adding some!
Current Season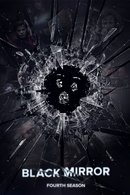 2017 | 6 Episodes
A fantasy spins out of control, all-seeing devices expose dark secrets, and a woman flees a ruthless hunter in more tales of technology run wild.
Find out where to watch this on:
Facts
Status Returning Series
Networks
Certification
Meaning

Only those over 15 years are admitted. Nobody younger than 15 can rent or buy a 15-rated VHS, DVD, Blu-ray Disc, UMD or game, or watch a film in the cinema with this rating. Films under this category can contain adult themes, hard drugs, frequent strong language and limited use of very strong language, strong violence and strong sex references, and nudity without graphic detail. Sexual activity may be portrayed but without any strong detail. Sexual violence may be shown if discreet and justified by context.
Type Scripted
Original Language English
Runtime 55m
Content Score
Just a little bit more...