Overview
Media
Fandom
Share
Overview
A six-part French documentary about the Second World War composed exclusively of actual footage of the war as filmed by war correspondents, soldiers, resistance fighters and private citizens. The series is shown in color, with the black and white footage being fully colorized, save for some original color footage. The only exception to the treatment are most Holocaust scenes, which are presented in the original black and white.
Last Season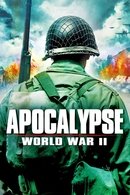 2009 | 6 Episodes
Season 1 of Apocalypse: The Second World War premiered on September 8, 2009.
Facts
Original Name Apocalypse - La 2ème guerre mondiale
Status Ended
Network
Type Miniseries
Original Language French
Content Score
Almost there...