Last Season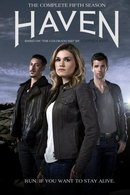 2014 | 26 Episodes
Haven's protectors are thrust into uncharted waters: Duke is now a ticking time bomb, fighting to contain the Troubles within him, while Nathan faces his greatest fear that Audrey—the woman he's fought so desperately to save—may be gone forever.
Find out where to watch this on:
Facts
Status Ended
Network
Certification
Meaning

Programming intended for viewers ages 14 and older. May contain strong violence and strong profanity, and depictions of sexual activity as long as they are within the context of a story.
Type Scripted
Original Language English
Runtime 45m, 42m
Homepage http://www.syfy.com/haven/
Content Score
Almost there...