Overview
Sonic Underground is an animated series that follows the adventures of Sonic the Hedgehog and his siblings, Sonia and Manic. The cartoon follows a main plot separate from all other Sonic the Hedgehog media. The series ran for two seasons, each of twenty episodes. As of June 11, 2012 re-runs of the series began airing on Disney XD.
Last Season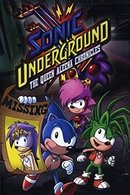 1999 | 40 Episodes
Not long after the birth of Queen Aleena Hedgehog's children Sonic, Manic and Sonia, Dr. Robotnik dethroned the royal hedgehog family and conquering most of Mobius. However, the Oracle of Delphius fortold that Aleena and her children, as the Sonic Underground, would one day form the Council of Four and overthrow Robotnik. But for the prophecy to come to pass, Aleena had to abandon her children.[2] Years later, Sonic Underground was formed when the siblings were reunited and set on their quest by the Oracle of Delphius.[2] After getting to know each other and mastering their skills, the group set out to find their mother and bring an end to the Robotnik Empire. At the same time, the group would constantly be trailed by Robotnik's top bounty hunters, Sleet and Dingo.[3][4] According to the Oracle of Delphius and other prophecies, the Sonic Underground will eventually find their mother and defeat Robotnik once and for all.
Facts
Status Ended
Networks
Certification
Meaning

This program is designed for children age 7 and above.
Type Scripted
Original Language English
Runtime 25m, 20m, 30m
Keywords
No keywords have been added.
Content Score
Almost there...