Overview
Media
Fandom
Share
Overview
The adventures of a Time Lord—a time-travelling humanoid alien known as the Doctor—who explores the universe in his TARDIS, a sentient time-travelling space ship. Its exterior appears as a blue British police box, which was a common sight in Britain in 1963 when the series first aired. Along with a succession of companions, the Doctor faces a variety of foes while working to save civilisations, help ordinary people, and right wrongs.
Last Season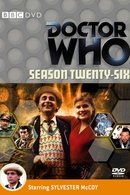 1989 | 14 Episodes
The twenty-sixth season of British science fiction television series Doctor Who began on 9 September 1989 with the serial Battlefield, after a regular series of four serials was broadcast finishing with Survival which was the final episode of Doctor Who to air before a 16-year absence from episodic television following its cancellation.
Content Score
Just a little bit more...