Overview
Media
Fandom
Share
Overview
A daily short-form variety series featuring some of the biggest stars from NBCUniversal and beyond, all from home — all month long. The series helps to raise awareness and support for three national non-profit organizations providing critical services to essential workers and those communities most in need.
Current Season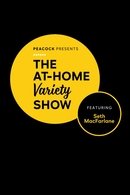 2020 | 6 Episodes
Season 1 of Peacock Presents: The At-Home Variety Show Featuring Seth MacFarlane premiered on May 11, 2020.
Content Score
There's no 'I' in team...