Overview
Mr. and Mrs. Bennet have five unmarried daughters, and Mrs. Bennet is especially eager to find suitable husbands for them. When the rich single gentlemen Mr. Bingley and Mr. Darcy come to live nearby, the Bennets have high hopes. But pride, prejudice, and misunderstandings all combine to complicate their relationships and to make happiness difficult.
Tagline
The Gayest Comedy Hit of the Screen! Five Gorgeous Beauties on a Mad-Cap Manhunt! With the Stars of
Crew
Show All
Cast
Show All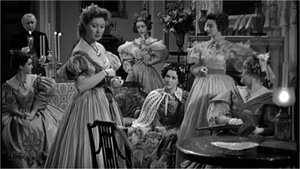 Genres
Production Companies
Metro-Goldwyn-Mayer (MGM), Loew's Incorporated
There are no English reviews for this movie. Would you like to write one?
Similar Movies
Similar items on TMDb are built by looking for other objects that have the same plot keywords and genres. If there aren't any listed, try adding some. As a general guideline when adding these keywords, think of things that help describe the movie. Key plot points (no spoilers though!), general themes and moods are especially useful.