Overview
Self-absorbed Dr. Lee Johnson enlists with the Army medical corps during World War II, more out of a feeling that it's "the thing to do" rather than deep-seated patriotism. On his first day, he's put into place by 'Snapshot', a sassy and attractive nurse. Their initial antagonism blossoms into romance. Lee then finds himself torn with guilt over being unfaithful to his wife, Penny, who's waiting for him back home.
Tagline
The Stirring stoy of a Dangerous and romantic journey
Crew
Show All
Cast
Show All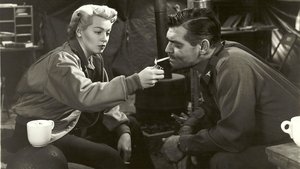 Genres
Production Companies
There are no English reviews for this movie. Would you like to write one?
Similar Movies
Similar items on TMDb are built by looking for other objects that have the same plot keywords and genres. If there aren't any listed, try adding some. As a general guideline when adding these keywords, think of things that help describe the movie. Key plot points (no spoilers though!), general themes and moods are especially useful.