Overview
Pingu is a BAFTA award-winning British-Swiss stop-motion claymated television series created by Otmar Gutmann. The series was produced by The Pygos Group and Trickfilmstudio for Swiss television, and centers on a family of anthropomorphic penguins living at the South Pole. The main character is the family's son and title character, Pingu. The show was made by HiT Entertainment and HoT Animation, British companies, from seasons 5–6.
The show originally ran for fourteen seasons from 28 May 1986 to 9 April 2000 on SF DRS. In 2001, there were 2 Pingu episodes made that did not air during the original run. The episodes were run later, in 2000, as part of a Pingu marathon. HiT Entertainment's request for more episodes convinced Pygos to bring back the show in 1998, with two more series. Of note, season 1 and season 2 were run consecutively but took 4 years for each season to complete, while season 3 and season 4 took 2 and 3 years to complete – the show was not cancelled in between. To this day, Pingu maintains a cult following, and enjoys occasional reruns on Cbeebies in the United Kingdom. It aired on BBC in 1995 until 2005 through the early years.
Featured Crew
Creator
Series Cast
Pingu / Pinga / Mama / Papa / Robby / Pingo / Punky / Grandfather / Pingi / Pingg / Banjo / Pongi / Schoolmaster (voice)

104 Episodes

Mama / Pingi / Pinga (voice)

52 Episodes

Papa / Pingu / Grandfather / Robby / Pingo / Pingg / Pongi / Punky / Banjo / Schoolmaster (voice)

52 Episodes
Last Season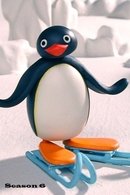 2005 | 26 Episodes
This is an list of episodes with synopses for Series 6 of the stop motion animated television series Pingu, final broadcast from January 3, 2005 to March 3, 2006.
Facts
Status Ended
Network
Certification
Meaning

Can be aired at any time.
Type Scripted
Original Language English
Runtime 5m
Content Score
We're so close, yet so far.