Overview
Explore the Kennedy family's rise to power and how personal relationships within the Kennedy dynasty shaped national and global events from the Cold War to the Wall Street crash.
Series Cast
Narrator

6 Episodes
Last Season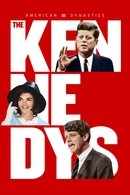 2018 | 6 Episodes
Season 1 of American Dynasties: The Kennedys premiered on March 11, 2018.
Recommendations
We don't have enough data to suggest any TV shows based on American Dynasties: The Kennedys. You can help by rating TV shows you've seen.
Content Score
We're so close, yet so far.