Overview
Desperate Housewives is an American television comedy-drama-mystery series created by Marc Cherry and produced by ABC Studios and Cherry Productions. It aired Sundays at 9 P.M. Eastern/8 P.M. Central, on ABC from October 3, 2004, until May 13, 2012. Executive producer Cherry served as showrunner. Other executive producers since the fourth season included Bob Daily, George W. Perkins, John Pardee, Joey Murphy, David Grossman, and Larry Shaw.
The main setting of the show was Wisteria Lane, a street in the fictional American town of 'Fairview' in the fictional 'Eagle State'. The show followed the lives of a group of women as seen through the eyes of a dead neighbor who committed suicide in the very first episode. The storyline covers thirteen years of the women's lives over eight seasons, set between the years 2004–2008, and later 2013–2017. They worked through domestic struggles and family life, while facing the secrets, crimes and mysteries hidden behind the doors of their — at the surface — beautiful and seemingly perfect suburban neighborhood.
The show featured an ensemble cast, headed by Teri Hatcher as Susan Mayer, Felicity Huffman as Lynette Scavo, Marcia Cross as Bree Van de Kamp, and Eva Longoria as Gabrielle Solis. Brenda Strong narrated the show as the deceased Mary Alice Young, appearing sporadically in flashbacks or dream sequences.
Featured Crew
Creator
Last Season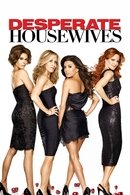 2011 | 23 Episodes
The eighth and final season of Desperate Housewives, a television series created by Marc Cherry, began broadcasting in the United States on September 25, 2011 and concluded on May 13, 2012. The season was promoted as "Kiss Them Goodbye." Desperate Housewives was renewed for an eighth season by ABC on May 17, 2011. The deceased character Mary Alice Young continues to narrate the events in the lives of her friends and Wisteria Lane residents, Susan Delfino, Lynette Scavo, Bree Van de Kamp and Gabrielle Solis. This season's mystery sees the housewives deal with covering up the murder of Gabrielle's stepfather, Alejandro Perez, from the previous season's finale. The final season began airing in the Middle East on October 3, 2011 on OSN First and in Latin America on October 6, 2011. It began airing in the United Kingdom on Sunday January 8, 2012 on E4 and Tuesday, January 10, 2012 in Channel 4, and also began airing in Ireland on RTÉ Two on Tuesday, January 3, 2012; in Greece on FOXlife on Monday, January 16, 2012; in Austria on Monday, January 2, 2012 on ORF; in Germany on Wednesday, January 4, 2012; in Australia on Thursday, February 2, 2012 and in France on Thursday, April 12, 2012.
Content Score
Yes! Looking good!