Overview
Media
Fandom
Share
Overview
Banri Tada is a freshman at a Tokyo law school. After an accident, he suffers severe memory loss. Despite the incident, he befriends fellow freshman, Mitsuo Yanagisawa, which leads him to the beautiful, yet obsessive, Kouko Kaga.
Series Cast
We don't have any cast added to this TV Show. You can help by adding some!
Last Season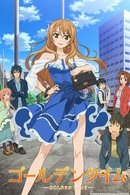 2013 | 24 Episodes
Banri Tada is a newly admitted student at a private law school in Tokyo. However, due to an accident, he lost all of his memories. During his freshman orientation, he encounters another freshman from the same school, Mitsuo Yanagisawa, and they hit it off at once. Without any memory of each other, their lives become more and more intertwined as if set by the hands of fate. But what is their fate, and will it lead to happiness or another memory to forget… (Source: Crunchyroll)
Facts
Original Name ゴールデンタイム
Status Ended
Networks
Type Scripted
Original Language Japanese
Keywords
No keywords have been added.
Content Score
We're so close, yet so far.