Overview
Set during the Silla dynasty, Sam Maekjong is the son of the fallen king and present queen regent, Jiso, but he has been kept in hiding for protection ever since he was a young boy, when his father was murdered. Over the years the powerful nobles have tried and failed to usurp power from Jiso, causing her to grow wary and later even reluctant to hand the throne over. As her son comes of age, she creates the Hwarang, an elite group of male youth who train in fighting and education. Their existence cuts across the existing power factions and Sam Maekjong is amidst their ranks under the false name Kim Ji-Dwi, unbeknownst to other Hwarang members.
Last Season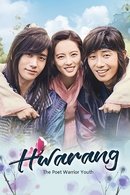 2016 | 20 Episodes
Season 1 of Hwarang: The Poet Warrior Youth premiered on December 19, 2016.
Facts
Original Name 화랑
Status Ended
Network
Certification
Meaning

This rating is for programs that contain material that may be inappropriate for children under 15, and that parental discretion should be used. Examples include most dramas, and talk shows on OTA (over-the-air) TV (KBS, MBC, SBS), and many American TV shows/dramas on Cable TV channels like OCN and OnStyle. The programs that have this rating may include moderate or strong adult themes, language, sexual inference, and violence. As with the TV-MA rating in North America, this rating is commonly applied to live events where the occurrence of inappropriate dialogue is unpredictable. Since 2007, this rating is the most used rating for TV.
Type Scripted
Original Language Korean
Runtime 60m
Content Score
Almost there...