Overview
Media
Fandom
Share
Overview
Yume Nijino aims to become a top idol, and she enrolls in the Yotsuboshi Gakuen (Four Stars Academy). This academy has a special group called the S4, who are the top four active idols in the school. Yume and the other first-year students aim to become a part of the S4.
Creator
Last Season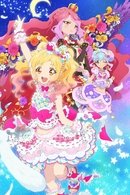 2017 | 50 Episodes
An idol academy in the form of a luxurious cruise ship suddenly appears, and it's name is the Venus Ark! The one leading the cruise is the perfect idol, Elza Forte!!
Content Score
Pump it up! We're close now.