Overview
Media
Fandom
Share
Overview
Ben Harper is a moderately successful family man and dentist. He is also undergoing a mid-life crisis and trying to cope with the bizarre reality of raising teenage children. His wife Susan seems quite happy, enjoys her job as a London tour guide, however at home her ability to find her way around a cookbook or pantry is less successful.
Their three children Nick, Janey, and Michael are as different as chalk and cheese. Nick (19) is on his gap year, but doesn't get much further than the sofa or job centre, Janey is as sharp as a tack and 16 going on 25, while Michael is a very bright, computer-nerdish 12 year old who is just discovering girls.
Creator
Last Season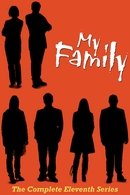 2011 | 11 Episodes
The fortunes of the Harpers are certainly up and down in this series. Susan and Janey go head-to-head for an exciting job in TV; Susan ends up being a Facecrook; Michael's & Janey's anniversary gift backfires.… Plus Kenzo outsmarts Ben, and Janey, much to Michael's annoyance, becomes friendly with his new boyfriend, Matt. Meanwhile at work, Susan learns how to deal with a young lecher, and then decides it's time to 'Cavitox'! When Susan's father turns up out of the blue offering £2 million to buy her out of her marriage to Ben, is divorce on the cards? And will Roger's Jollies manage to win the darts final?
Content Score
Almost there...