Season Regulars
9
Crew
0
There are no crew records added to Series 3.
Episodes
7
Granville and Gastric find themselves playing marriage counsellors and Leroy adopts a festive disguise to avoid relationship trouble of a different kind. Meanwhile, Mrs Featherstone struggles to find the Christmas spirit and Kath attempts to bring the street together as one harmonious choir to beat Finkle Street once and for all - but does Granville have a trick up his sleeve to help them out?
Read More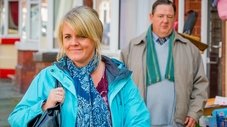 Granville has bought some cheap devices that promise to jump start people's positive emotions, but will they work? Meanwhile, Mr. Newbold has a serious underwear problem which Mrs Featherstone has taken upon herself to solve with Granville's help, and Leroy's latest girlfriend has made Mrs Hussein jealous and caused a local underworld boss to come looking for him.
Read More
Granville tries to sell some out-of-date mints, with results that get tongues wagging. Meanwhile, Mrs Featherstone is still trying to tempt Granville to become her fourth husband, and Eric, Cyril and Mr Newbold try to prove to their womenfolk that they are men of adventure.
Read More
Granville has some outdated Christmas puddings to sell but needs a clever plan to lure his sceptical customers into buying them. Madge is convinced that her house is haunted and is refusing to sleep in her bedroom, but luckily Granville discovers Gastric has a hidden dark side with spiritual powers that could solve the mystery and impress Madge. Meanwhile, Mrs Hussein takes a shine to Leroy and wants to know what they keep behind the counter for special customers.
Read More
Granville tries to tempt the locals with a big wheel of cheese which seems to be on the turn. Leroy, sick of riding the old shop bike, is desperate for a new van to make his deliveries, so Granville turns to Gastric for help. Meanwhile, Mrs Featherstone continues to strike fear into the heart of Mr Newbold as she suggests a modest advance in their new relationship.
Read More
Granville has bought a job lot of turnips that will need clever selling with the promise of their amazing medicinal qualities. Meanwhile, an attractive young woman is looking for Eric; he says he has no idea who she is, but Kath and the ladies are not so sure. And Mrs Featherstone samples Mr Newbold's homemade wine, which emboldens her intentions on finding a fourth husband even more than usual.
Read More
Arkwright's becomes a delivery point for people's internet shopping. When a large delivery arrives, Granville decides he could use it to help Gastric impress Madge, who has taken to her bed in a foul mood.
Meanwhile, Granville is worried he is not using his shop counter space well enough to advertise, and Eric turns to Leroy for advice after Kath finds evidence of a lady's stocking his pocket.
Read More