Overview
Derren unleashes his most audacious plan yet: to convince one person that the planet has been devastated by a catastrophic meteorite strike and that zombies roam the land
Top Billed Cast
Himself
Last Season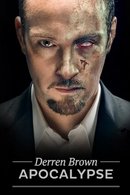 2012 | 2 Episodes
A member of the public is given a second chance at life when mentalist Derren Brown makes him realize how important life is by tricking him into believing that a meteor has hit the earth and is now populated by zombies.
Recommendations
We don't have enough data to suggest any TV shows based on Derren Brown: Apocalypse. You can help by rating TV shows you've seen.
Content Score
Still needs a little work.